< Back | Safety Page | Next >
This drawing done for me by Milt Caniff of Steve Canyon shows how you can install a makeshift shoulder harness in an old car or aircraft. Purchase about 8 ft of webbing at any auto supply store, sew a loop in each end. Thread it through your rear seatbelt or tie it securely.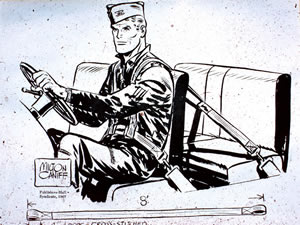 Thread your front seatbelt through the two loops and adjust all snugly. Its unapproved and at your own risk, but worked for one person in a minor accident.